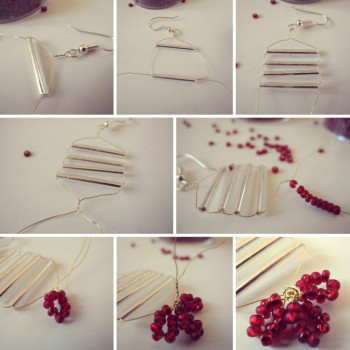 You know it is time to make your own earrings when you end up asking yourself how to make earrings and come up thinking awesome ideas.
When you are thinking how to make earrings at home without spending much money, you just need a few basic things to start with.
Some beads, glue stick, wires, strings, threads and of course hooks to bind them to ears when someone wears them.
Here are top 8 how to make earrings ideas for men and women both.
Floral diy earrings
How many times have you tried to make your own earrings? Did you know making floral diy earrings is as easy as sticking two things together, that's it.
You get floral buttons and beads readymade available in shops which you ought to buy and using glue, stick a hook to the back. This is the simplest of the earring making ideas one could think of.
Chained diy earrings
Little wires twingled into small circles and conjoined form chained do it yourself earrings that are great to wear. Right from little kids to elders of all ages, chained earrings are always in fashion.
The same chain can also be made into a necklace chain if it is created longer in length. When you try to make your very own earrings, definitely give this idea a try! Of course, on all types of make your own earrings, do not forget to glue the hook on the backside.
The hooks are available in shops readymade and quite inexpensive.
Beaded earrings
Just like how you would join several beads into a thread or strings and create a necklace or a bracelet, you can make your own earrings easily.
The beads can be hung on a single wire twined as a circle or as a triangle or as a square shape even. This can then be glued with a hook at the book for the buyer to wear.
This is again one of the simplest jewellery making ideas followed by a lot of people interested in making homemade jewellery.
Ringed earrings
Rings are always in fashion. With broken bangles or silver rings bought from shops, you could easily prepare earrings in different colours and shapes.
Rings appear not only in circles. There are rings available in other shapes too. By attaching a hook to one corner of the ring and joining both corners, wearers can hook them together to their ears.
You can make your own earrings made with rings from small to large size and even create party earrings that could look ultra-stylish.
Fabric button earrings
Shirt buttons are easily accessible for you to think how to make your own earrings. You could buy new buttons or reuse buttons that have got torn from shirts.
You need fabric preferably cotton in different rough textures and colours that you could weave around the buttons.
After covering the buttons with fabric, attach the hook on the book and your earrings are ready to wear!
Shell earrings
One of the coolest and sweetest earring making ideas, using shells to create earrings is really interesting.
You could either use the shells as they are or paint them in different designs and patterns before attaching the hook on the back.
Wired and Pearl earrings
Just like large pearl bracelets wired together, you could bead several pearls, small and colourful using wires and create beautiful earrings.
When you explore how to make your own earrings, this is an idea you must explore.
Pearls come in various colors but white pearls look most beautiful. White is the colour of love, harmony and peace and that's why pearl earrings also form great gift options for people of all ages.
Chandelier earrings
Stuffing one bead over another and giving it the shape of a chandelier looks beautiful.
Mostly when you wish to explore how to make your own earrings, chandelier earring ideas are found on several websites, big and small and there are several patterns of these earrings that could be created.
Just like how chandelier rings help you decide how to make your own earrings, chandelier designs also help you create necklaces and bracelets that look truly awesome and stylish.
On the whole, creating diy earrings is not a tough job. Besides the above stated designs, you could come up with your own designs and creative ideas for making earrings.
Earrings made with marbles, wood and even paper in different shapes such as spheres, circles, triangles etc. are loved by women.
As earrings are mostly worn by ladies, beautiful heart shapes, floral patterns, alphabet names etc. are preferred for designs.
However, for men, little rings can be created using the same methods and ideas.
For more earring making ideas, visit www.neatie.com.