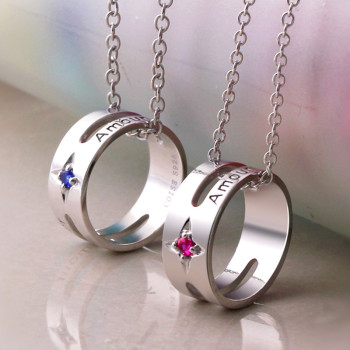 Selecting the best couples jewellery for your friends or for yourself is an enjoyable task.
This is primarily because couples jewellery is available in interesting designs and exciting colours. Also, jewelry for couples is quite affordable and can be bought online easily.
What kind of couples jewellery men like
When it comes to men and jewelry for couples they need to choose from, their choices may be limited if they are not exposed to a great database available online!
Of course the database for jewelry for couples is in plenty! Various colours, designs, combination jewelry, gold and silver jewelry, engraved jewelry, alphabet jewelry, you name it, they have it!
However, men traditionally prefer bracelets made of silver or any strong metal even when it comes to sharing it with their partners.
Likewise, while deciding on necklaces, men like macho, heroic designs as they want to prove themselves stronger than their partners and want it have a protective edge.
What kind of couples jewellery women like
Women usually like the softer types of jewelry for couples available from the database online or at their local shops.
Women in general prefer sensitive designs and want their jewellery to look elegant, soft and feminine.
When one has to choose his and hers jewellery designs that are coordinated for the couple, women choose the mellowed down light colours and simple, sophisticated designs that make them look trendy and modern at the same time.
While mature women or wives may choose darker shades, girlfriends usually prefer the softer shades and smaller designs and patterns.
Heart shapes, floral patterns, rangoli designs, peacock shapes et al are usually the choice for women who want to look young and soft.
Best his and hers jewellery designs
While looking for combination his and hers necklaces for couples, you can select designs that appeal to both the partners.
If you are buying for yourself, get a pair of necklace that looks great on you as well as your spouse or your boyfriend.
Floral patterns are usually available in both male and female patterns. Similarly, patterns with love birds, unicorns, horses, even dolphins are available and are liked by both the partners equally.
A heart to heart necklace with pendants, a macho bracelet matching the jewellery, anklets made from silver and gold monogram necklaces are other favouries liked by couples online.
Why to gift jewelry for couples
While selecting gifts for newlyweds, apart from kitchen materials, electronics, apparel and accessories, couples jewelry is a great choice to make as it is expensive and easily available.
Top notch websites sell couples jewellery at throwaway prices and offer them at great discounted rates.
Discounts of 60% to 80% are available online during select seasons and this is what makes couple jewellery a really special gift option to choose from.
When we say couples, not just married people but even boyfriend and girlfriend design options are available in plenty.
Bracelets and necklaces with couple pictures engraved, alphabets and names and initials engraved in different font sets and colours could be easily customized online.
One can select shape of the jewellery, size of the jewellery and also metals and materials to personalize them.
Top boyfriend and girlfriend jewellery designs online
When it comes to boyfriend and girlfriend jewellery designs, any accessory or jewellery gifted with chocolates and flowers go well.
This is why lightweight personalised jewellery is liked by all.
Necklaces, pendants, bracelets, charms, anklets and other jewelry with zodiac signs are the top favourites for all. Hand stamped jewellery is also another highly popular type of jewellery available at cheap pricing.
His and hers bracelets, matching couple necklaces, guitar pick necklaces, I love you bracelets are available in plenty of designs and couples simply love to buy them.
Where to buy boyfriend and girlfriend jewellery from
This is a golden question that you may wonder as you may find that almost 95% of online shopping stores sell boyfriend and girlfriend jewellery.
The rules are simple. Select a website that allows personalization. This is the first and foremost criteria for shortlisting your online shop.
Next remember to select a website that specializes in creating jewellery. This is because they would have jewellery experts dedicated to their job unlike other websites that may be selling plenty other unrelated products.
Last but not the least, select websites that offer cash on delivery options and also allow easy exchange in case you do not like the design or the size of the delivered product does not match yours.
Look for quality and not just quantity. Select websites that allow you to select from plenty of metals such as gold, silver and platinum and of course, websites whose online transactions are secured and well protected.
Do not buy from websites that have a low online reputation. Read customer reviews online before you zero down on a website to buy his and hers jewellery.
For more jewellery options, visit www.neatie.com.